International Buyers – Please
Note:
Import duties, taxes, and charges are not included in the item
price or shipping cost. These charges are the buyer's
responsibility.
Please check with your country's customs office to determine
what these additional costs will be prior to bidding or
buying.
Customs fees are normally charged by the shipping company or
collected when you pick the item up. These fees are not
additional shipping charges.
We won't under-value merchandise or mark the item as a gift
on customs forms.
TOSHIBA ER-VD7000 Superheated Steam Microwave Oven Black 100V Japan Domestic New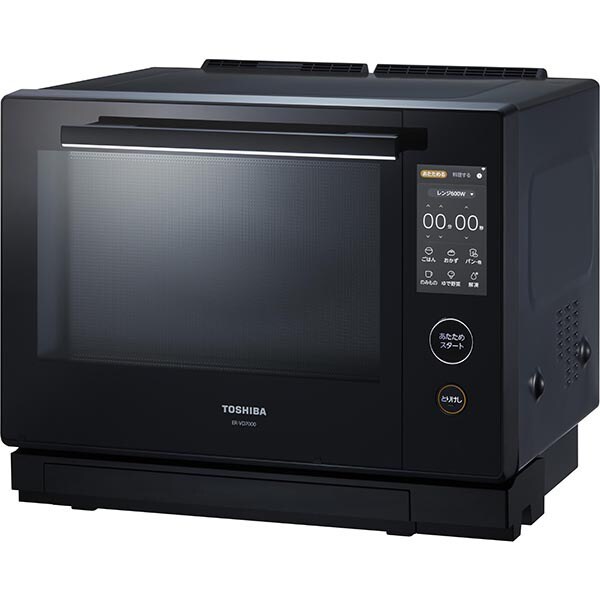 Item Description
Storage capacity: 30L
Two-stage cooking: Yes
Maximum oven temperature: 350 ° C * Approximately 5 minutes
Maximum range output: 1000W * Maximum 5 minutes
Sensor: 1024 point infrared sensor
Temperature sensor:
Steam generation method: Tank type
Warm up 2 items at the same time: Correspondence
Suitable temperature warming: Correspondence * -10 ℃ ~ 90 ℃
Smartphone application cooperation: Correspondence
Number of recipes: 486 * Includes arrangement recipes, variation recipes, cake mold sizes, and toppings
Number of automatic menus: 493 * Number of menus that can be automatically cooked in the instruction manual and cooking book (including automatic warming, excluding maintenance)
Toast menu: Yes (requires inside out)
How to open the door: Vertical opening
Internal shape: Flat
Required installation dimensions (rear): Pita can be placed
Required installation dimensions (upper): 10 cm or more
Required installation dimensions (left and right): Left and right pita can be placed
Power frequency: Hertz free
Weight: 21kg
Width: 498mm
Height: 396mm
Depth: 399mm * Including handle: 446mm
Accessories:
Deep plate (iron plate enamel) 41.2 x 29.1 cm x1 / Far-red wrapped grilled square plate (Torechau coat) 41.2 x 29.1 cm x2 / Gridiron / Instruction manual / Separate dish collection (Water supply cassette and water receiver are already attached to the main body)

Payment & Shipping
We accept payment only through Paypal.
We ship the item worldwide.
We ship within 1-2 business days after
payment is confirmed.
We ship the item via EMS or FedEx. Insurance will be
included into the Shipping and Handling fee.
A tracking number will be provided after the item has
been dispatched.
It usually takes 3-5 business days to ship to the USA.
Delivery time varies by destination and by factors such
as weather, custom clearance condition etc.
Please contact the respective post services for more
information.
We only ship to your PayPal and Ebay
account's registered
address.Please make sure
that your shipping address is up to date on your PayPal
account before placing the order.
If your region couldn't show shipping rate, please
contact us for shipping cost and details.
*When using EMS(Japan Post), if the
item comes with a battery, the battery has to be
inserted into the body for Japan post policy. We will
insert the battery into the body before shipping.
Return Policy
Generally, we accept return for
exchange or refund within 14 days since the items arrived to your
door.
For a full refund, all returned
items must be unused,
unopened and
undamaged in the same brand
new condition as it
was delivered to you.
If the item does not under the
`brand new` condition, we will not be able to make a
full refund.
After checking the item and estimating its
condition, we will decide the percentage of the
refund (80%, 50%, etc).

All packaging, manuals, warranty
cards, box and accessories must be sent back with the
item.
Please make sure to write "Return Item" on the dispatch
slip paper when sending back the item to us.
The item must be sent back via EMS(USPS) or any carrier
that provides tracking number..
The buyer is responsible for the items till we receive
them.
Please contact us before shipping back the package.
The responsibility of return shipping cost depends on
the case.
We deal with return and refund case by case.
Simply, we divide the cases by 2 categories.
Manufacturer Defect
Non-Manufacturer Defect
Return shipping cost
responsibility
on seller
on buyer
Refund amount
full refund
or
exchange
decided by seller after
assessing the item condition
Warranty
If you have any warranty
problems, we will assist you.
Generally, the warranty is a one
year standard warranty and it is valid in Japan only.
Item repairs are carried out by the
manufacturers here in Japan.
If your item has a problem, you
have to ship your item together with the warranty card
back to us.
The item must be sent back via
EMS(USPS) or any carrier that provides tracking number.
The manufacturer will decide if the
problem is covered by the warranty.
If the problem is not covered by
the warranty, extra repairing fee will be charged.
The shipping cost and extra repair
fees are the buyer's responsibility.
Warranty cases usually take around
14 business days to be processed in Japan. If it is
going to take longer we will contact you.

Warranty scope
Only items that have manufacture
defects may be covered by the warranty.
Items that have been damaged from
actions such as drops, self repair, non maintenance
damage, water damage, damage caused by misuse are out
of free repair scope.
FAQ
1)
Can you lower the value in the invoice or mark it as a
gift?
-We cannot undervalue the products or mark them as
gift/used item, as it is prohibited by the law. Please
understand.
2) What Japan model means?
-It means Japan domestic market model.
3) Can you send me an English manual?
-English manual can be found and downloaded online.
If you can not find English manual, please let us know.
We will assist you.
4) Can you check the item/change
settings before shipping?
-We cannot do so in order to keep brand new condition.If you have problems with changing
the settings, please let us know.
We will assist you.
5) Is the
item genuine and brand new?
-All our products are genuine and brand new in
original boxes. We do not sell fake/used items.
6) Is the box factory sealed?
-There are items that come sealed by
manufacturers. There are also items come unsealed.
No matter if the product comes sealed or unsealed,
it is brand new and unopened.
7) What about import taxes in my
country?
-Unfortunately we cannot check import tax
information of your country from Japan. Please
check with your local customs office or contact
the post office for more information.
8) Can you
ship via standard registered mail/DHL/etc?
-We ship via EMS or FedEx only.
9) Can you ship to a
different address?
-We
can only send to your registered address of Ebay
and Paypal. Please keep your shipping address up
to date on your PayPal account before placing the
order.
About Us
 Premium
Japan is a professional trading company in electronic
business.We have a retail shop in Akihabara, Japan,
selling various electronics and Electrical Appliances
both domestically and internationally over the internet.
We are dedicated to provide you with high quality items
and unmatched service.
We promise our customers that our items are 100%
authentic, official products.
We always handle your products very carefully. We never
send you poorly-packed products.
You will certainly receive your product in perfect
condition.
Premium Japan Customer Support: Monday to Sunday, 10am –
8pm (Japanese Standard Time)
Please keep in mind that we do not work during New Year
holidays in Japan.
If you have any questions please feel free to contact
us. Your satisfaction is important to us.
If there are any items you are looking for, please let
us know. We will do our best to make sure you are happy
with your order!
Premium
Japan