Techomey 3.5 cu ft 12V/110V/LPG Gas Refrigerator Top Freezer RV Camper Off-Grid Cabin
The Techomey 3.5 Propane Gas Refrigerator is perfect for secondary home such as a vacation home, hunting camp, cottage, remote cabin, family cabin and ranch bunkhouse. Small enough size for transport to difficult locations such as lake houses, islands, look-out towers, and fish camps.
Family long term dwellings will benefit from the small size yet ample capacity. The fridge includes 3 adjustable shelves and 2 drawers. A full width vegetable and fruit crisper drawer is included.
The Techomey refrigerators use no electricity and can be operated from small portable propane cylinders or high capacity permanent tanks. But when the electric is available, AC110V , and DC12V battery is also can be operated.Operation of the refrigerator is straight forward with the igniter, safety valve, and thermostat located on the control panel. A flame indicator is also located on the control panel to let you know the flame is lit. Chill down time for the Techomey XCD100 is from between six and eight hours. This unit can be started at the time of a power outage and be ready for food transfer before food spoilage occurs. With the high cost of grocery goods, a Propane Gas Fridge can save hundreds of dollars during just one power outage.
It's more environmentally friendly and energy efficient than an electric refrigerator, saving you dollars. Cools like a regular fridge with minimal gas consumption.
MOUNTING RECOMMENDATIONS:Clearance of 4 inches should be left on the top, and 1″ on back/sides of the unit for proper air circulation.
The Techomey Fridge XCD-100 is one of the most economical Propane Gas Refrigerators of it's size range on the market today when you consider cost per cubic foot.
This fridge features a separate freezer compartment, battery-powered ignition system and thermostat regulation in 110-volt and gas mode.
ACCESSORIES RELATED: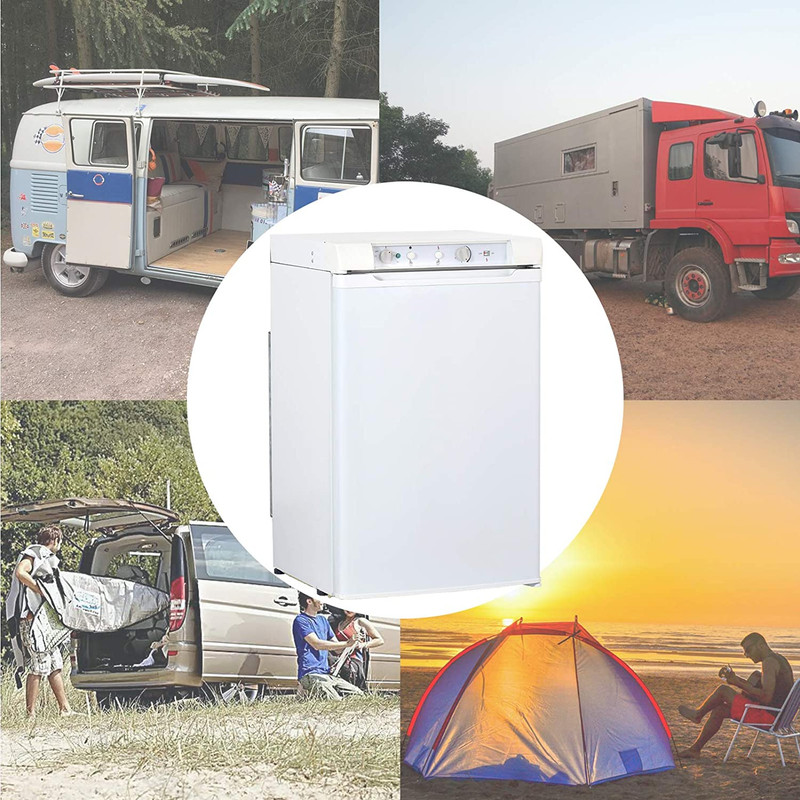 SPECIFICATIONS / FEATURES
Dimensions (H x W x D): 32.6″ H x 20.6″ W x 22.4″ D

Electronic battery ignition
The fridge does not automatically ignite but will require you to push the ignition button. You must select the power source (12v, Gas, 110V Mains) manually on the control panel.

Refrigerator Interior Dimensions:19″ H x 18″ W x 13″ D

Gas&Electric Thermostat– controlled temperature

Freezer Interior Dimensions: 8″ H x 15″ W x 7.5″ D

Front mounted controls
Internal Freezer Compartment

Weight : 76 Lbs /34.5kg

Built-in level indicator (unit must be level while operating for optimal performance)

Capacity : 3.5 Cu. Ft.
Refrigerator Capacity : .3.15 Cu. Ft.
Freezer Capacity :0.35 Cu. Ft.

No electricity required when on Gas

Color: White

Easy push button piezo igniter from front

Approx. LP Gas Consumption : 0.6 lbs LP/Day

Stainless steel burner assembly

Gas Connection: 3/8″ Male Flare
Run Time: Runs up to 30 days on a 20 lb propane tank

Absorption-Diffusion Refrigeration System, R717 Environmentally Friendly Ammonia Refrigerant, no Freon, no pollution

AC Power: 110V, 1.36 Amp., 150 Watts

For truck,caravan, domestic,camping,awnings,holiday home,summer house,diner Car, Motorhome

DC Power: 12V, 12.5 Amp

No noise, no vibration, low energy consumption.
Payment Policy
1.PayPal is the only online payment method we accept.
2. Please make your payment within 7 days after auction ends.
3. Before bidding, please read the above terms and conditions carefully. The bidding winner will be considered to agree with all terms and conditions listed.
Shipping Policy
1.Please make sure the Ship-To address you input during checkout is correct. We are not responsible for any wrong or undeliverable address.
2.All orders are usually processed within 48 hours after payment completed received. Orders are shipped on business days only. Business days are Monday-Friday, excluding federal holidays within the United States.
Returns Policy
These items are Brand New.

1.You can contact us to return the item if you are not satisfied with the product within 14 days after you get the item. All accessories as well as the original box must be returned at the same time. You will pay the return shipping cost.

2.We provide 2 Months warranty for our product. If there is any problem with the product, we will provide proper solution for the problem. Please try to contact us if there is any question, neutral or negative feedback will not resolve the problem. We will give 100% satisfied solution.
About Us
We are a Chinese company sellers. Welcome to buy. We offer our customers high quality products at low prices. We maintain high standards of excellence and strive for 100% customer satisfaction!
Contact Us
Our Office Hours Are :
Start from 9:00 a.m. to 6:00 p.m. (GMT+8) of Monday to Saturday.
Closed on Sunday and public holidays.
We apologize for the late reply during the holidays and the time lag.