Vitamins & Supplements

YOUR HAPPINESS IS A REFLECTION YOUR HEALTH
USA MOST POWERFUL Probiotics 100 Billion CFU Potency Digestive Immune Health 120, Potent ✔
Supplement for Digestive Health ✔Non-GMO✔
Product Facts: 100 million active cultures at time of manufacture
Helps support overall well being
These statements have not been evaluated by the Food and Drug Administration
Packaging may vary due to redesign, same great product ingredients
Other ingredients: Vegetable Cellulose, Vegetable Stearic Acid, Silica, Vegetable Magnesium Stearate 120 tablets per bottle
Helps convert food into cellular energy
Adults, take 1 tablet daily with water.
Serving Size: 1 Tablet per day, 20 mins before meal, with water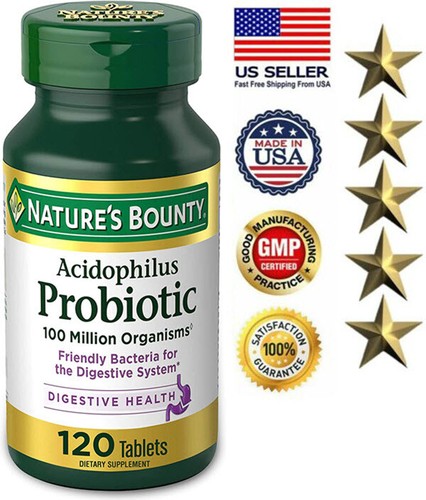 We do not aim to diagnose, treat, cure or prevent any illness or disease. Information is shared for educational purposes only. You must consult your doctor before acting on any content on this template, especially if you are pregnant, nursing, taking medication, or have a medical condition.
GMO-free, gluten free, dairy free, soy free, and contains free allergens, free binders, free fillers, free preservatives, free antibiotics, free yeast, free wheat, free soy, free sugar, free shellfish, free nuts, free eggs, free cholesterol,
Free artificial colors/flavors, and free heavy metals. Our Sunleafy Neuro Brain is proudly manufactured in the USA in an FDA-registered and cGMP certified facility for optimal purity and potency.
GLUTENFREE #DAIRYFREE #SOYFREE #SOFTGEL #KOSHER # GMO-FREE
Payment Policy
Our accepted payments policy gives buyers on eBay convenient payment options. We accepted PayPal Credit or debit card processed through the seller's Internet merchant account Your payment is safe and secure.
Return Policy
We want you to be completely satisfied with your purchase. We accept back items 30 days from the ship date that have not been opened or used. Refunds are granted for the purchase price of the product (minus a 15% restocking fee), minus the shipping cost. Items that have been opened, used, or are not in a resellable condition are not eligible for a refund. All orders that are returned or refunded for any reason regardless of time shall incur a 15% restocking fee.
Shipping Policy
★Free Shipping
We offer free shipping on all orders!
We cannot be held responsible for any laws or regulations that result in Customs an applying additional cost to your order, whether tax or duties nor any related delivery delays or seized products. In the event additional fees are assessed to your order, your local Customs authority will contact you directly.