DEKOPRO 218-Piece General Household Hand Tool Kit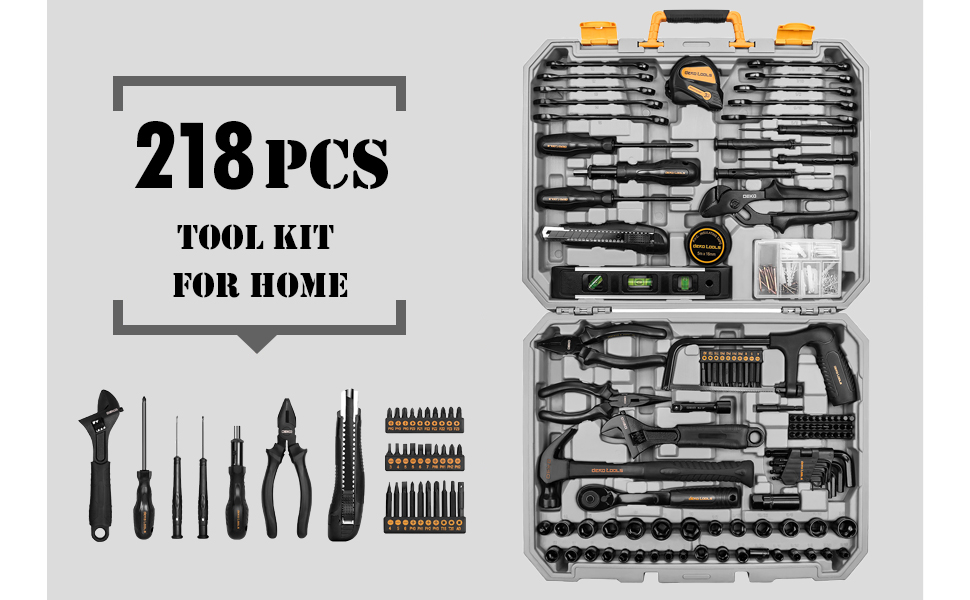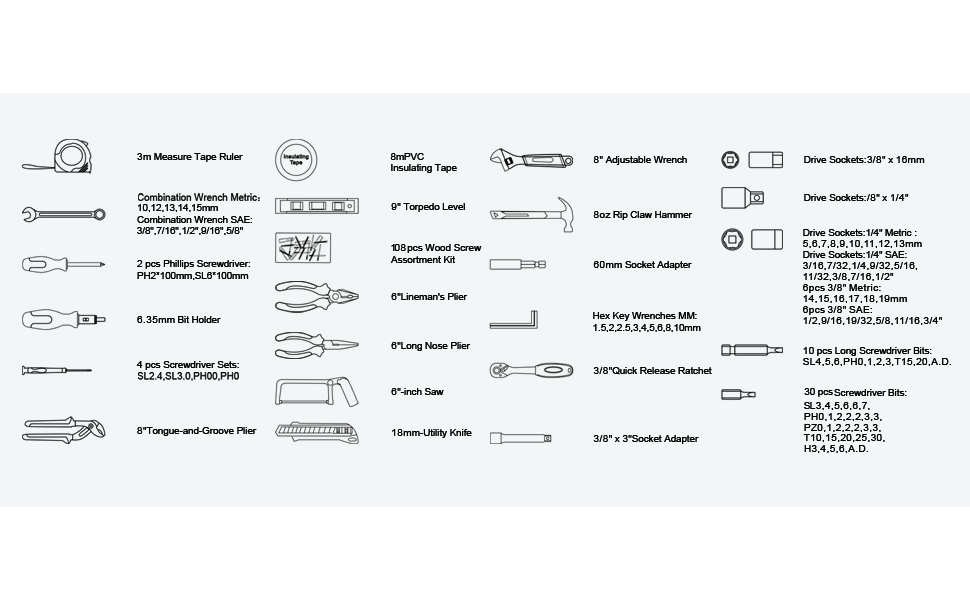 About DEKOPRO:
DEKOPRO Tool Kit aims to provide high quality, competitively priced, Hand Tools and Power Tools constructed of the finest quality components and designed for the home repair enthusiast. 218-Piece General Household Hand Tool Kit is a good choice to you.
Why choose DEKOPRO 218-Piece General Household Hand Tool Kit?

★ Home preparation, life is more wonderful.

★ Strong and durable, super load-bearing, tool card position is stable, no longer easily separated.

★ This set includes tools carefully chosen for their usefulness in everyday household and DIY tasks so you will always have the right tool for the job.





Set includes:

[1]3m Measure Tape Ruler

[5] Combination Wrench Metric:10,12,13,14,15mm

[5] Combination Wrench SAE:3/8″,7/16″,1/2″,9/16″,5/8″

[2]Phillips Screwdriver:PH2*100mm,SL6*100mm

[1]6.35mm Bit Holder

[4]Screwdriver Sets:SL2.4,SL3.0; PH00,PH0

[1]8″ Tongue-and-Groove Plier

[1]8m PVC Insulating Tape

[1]9″ Torpedo Level

[1]108pcs Wood Screw Assortment Kit

[1]6″ Lineman's Plier

[1]6″ Long Nose Plier

[1]6-inch Saw

[1]18mm Utility Knife

[1]8″ Adjustable Wrench

[1]8oz Rip Claw Hammer

[1]60mm Socket Adapter

[9]Hex Key Wrenches MM: 1.5mm,2mm,2.5mm,3mm,4mm,5mm,6mm,8mm,10mm

[1]3/8″ Quick Release Ratchet

[1]3/8″x 3″ Socket Adapter

[1]Drive Sockets:3/8″ x 16mm

[1]Drive Sockets:3/8″x 1/4″

[9]Drive Sockets:1/4″ Metric :5mm,6mm,7mm,8mm,9mm,10mm,11mm,12mm,13mm

[9]Drive Sockets:1/4″ SAE: 3/16″,7/32″,1/4″,9/32″,5/16″,11/32″,3/8″,7/16″,1/2″

[6]3/8″ Metric : 14mm,15mm,16mm,17mm,18mm,19mm

[6]3/8″ SAE : 1/2″,9/16″,19/32″,5/8″,11/16″,3/4″

[10]Long Screwdriver Bits:SL4,SL5,SL6,PH0,PH1,PH2,PH3,T15,T20,AD

[30]Screwdriver Bits:SL3,SL4,SL5,SL6,SL6,SL7; PH0,PH1,PH2,PH2,PH2,PH3,PH3;

PZ0,PZ1,PZ2,PZ2,PZ2,PZ3,PZ3; T10,T15,T20,T25,T30; H3,H4,H5,H6;AD




Technical Details
| | |
| --- | --- |
| Manufacturer | DEKOPRO |
| Part Number | DKMT218 |
| Item Weight | 13.96 pounds |
| Package Dimensions | 17.36 x 13.78 x 3.58 inches |
| Size | 218PCS |

PLEASE NOTE:

♥When opening the toolbox, place the DEKOPRO logo on it.